James Scott
Scotland Players to Watch 2020/21 - Part Two
Last week we discussed a group of Scotland players we are tipping to take their game to new heights in the coming 20/21 season. In Part Two, five more Scotland players go under the microscope:
Kieran Tierney
After his highly anticipated transfer to one of Europe's top clubs, Tierney has had a rocky start to life in north London at Arsenal. Moving for a reported £25m last summer his initial focus was on recovering from a hip injury which saw him side-lined for several months. He made his Arsenal debut in September in an EFL cup game and went on to feature in their Europa League campaign, providing two assists in four showcasing his excellent crossing ability. He made his Premier League debut in October against Palace but only featured in four other league games for Arsenal before he dislocated his shoulder, an incident which has seen him in the treatment room and on the road to recovery ever since.
Back in full training in the build-up to 'Project Restart', Tierney has shown Arteta he's ready for first team football once again. He couldn't have faced a tougher challenge in the first game back, starting against the might of Manchester City. While it was a long night for the North London side, going down 3-0, Tierney showed flashes of his talent and adaptability, starting at left back and finishing the game at centre back after David Luiz's second half red card.
A cameo from the bench followed against Brighton before starts in the wins against Southampton in the league and Sheffield United in the FA Cup. Fan and media feedback for these performances has been good, particularly from Amy Lawrence, Arsenal writer for the Athletic on his performance v Sheffield United.
It is obvious that 'KT' has bags of potential and can be a massive player for Scotland. He has impressed on most of his outings for the national team especially under Gordon Strachan who seemed to get the best out of him, playing him at left back, right back and centre back in a back three.
He has also captained Scotland against the Dutch at Pittodrie in a 1-0 defeat to the likes of Van Dijk, Wijnaldum and Depay, and for many he was one of the best players on the park. He has not played for the national team however since the defeat in Israel where he scored an own goal in a 2-1 defeat, so he is yet to feature under Steve Clarke.
The 2020/21 season is one the Tartan Army should look to with great anticipation regarding Tierney. With a full preseason under his belt and his injury worries hopefully behind him, this will allow him to kick on and have a proper crack at the Premier League. There are rumours of a potential move to Leicester should Chilwell leave, which would mean working under Rodgers again, but this doesn't pose an issue one would imagine as Rodgers has a history of getting the best out of the left-back from their Celtic days.
This will see Tierney get his first true chance to develop himself in one of the world's best leagues and finally get some consistent game time. This of course will give Clarke a headache around team selection but it's a good problem to have. As this continues it will hopefully allow Tierney to work towards becoming one of the best defenders in the league, a development of potential many of the Scotland faithful would have expected Tierney to fulfil when looking at his development a couple of years ago.
Ryan Gauld
Now that's a name. Having made headlines back in 2014 when he made his big money move from Tayside to Lisbon, Gauld has dropped off the radar for many. This wasn't helped by a loan move back to Scotland at Hibernian during end of the 2018/19 season, where he was plagued by injury and struggled to build up any momentum. Injury, management changes and club politics played a big part in his mostly unsuccessful time at Sporting Lisbon, and his development stuttered while he struggled to get lengthy spells playing consistently. Lisbon fans apparently still hold him in high regard however, and for many he is a missed opportunity, the one that got away, a talent who slipped through Sporting's grasp. For some of their fans it was a case of right player, right club, wrong time.
After being released by the Portuguese giants, he signed for a second tier Portuguese club SC Farense, a club with big ambitions about promotion and somewhere Gauld was familiar with having spent the first half of the 2018/19 season on loan. Here he was allowed to establish himself and develop through some much needed consistent game time. Once he broke into the team after he had fully recovered from injury, he became a permanent fixture in their side (playing every matchday, 4 to 24).
With the early conclusion of the 2019/20 season, Farense have been awarded promotion to the Primeira Liga from the Liga Pro after finishing in second place with plenty of breathing space from third and only two points away the champions. Gauld was a pivotal to his side in the run in of the final games, fulfilling the role of club captain on numerous occasions as well as finishing as the clubs top goal scorer, which was helped by finding a rich vein of scoring form netting eight times in the last seven games of the season.
Next season will hopefully see his first proper season in the Primeira Liga, something many Scots would have hoped would have come long before now. Nevertheless, his time has finally come, and this is something the Tartan Army should certainly get excited about. The former Dundee United man has only featured for Scotland up to caps for the u21's, playing alongside the likes of McGinn, Christie and Fraser, all players who have since moved on and have gained numerous caps for the men's first team. Gauld was called up by Strachan back in the EURO 2016 campaign to get familiar with the squad but this is as close as he has come.
This past year has been incredibly important for Gauld's development and he has become more cultured and experienced with this much needed period where he has finally been able to settle and build up consistent game time. Next season will see him tested in one of Europe's top leagues and should he continue this run of game time and displaying the technique and ability he has during the last 12 months, there is no reason he should not be more than a shoe in for a place in Steve Clarke's squad.
With regards to Scotland's attacking options, Gauld would be another feather in Clarke's cap, offering something a little different, bringing in a little bit of Portuguese flair which is understandably a rare commodity in the Scottish ranks. We undoubtably have a lot of talent in the likes of McGinn, Christie, Fraser, and Armstrong but Gauld will certainly bring something else to the table. It will be a very interesting season for sure to see how the boy who "went to Portugal and went missing" (a statement I disagree with entirely), redefines himself on his big return to the Portuguese topflight.
You can read more about Ryan Gauld and his time in Portugal in this excellent article by our friends at Alba / Matter.
Leigh Griffiths
Forever a Tartan Army favourite after his notorious double against the 'Auld Enemy', Griffiths has had a turbulent 18 months. His last appearance for Scotland was as a 70th minute substitute in our 2-0 victory over Albania at Hampden in our first UEFA Nations League fixture, meaning he has not featured under Clarke and missed the entire EURO 2020 Qualifying campaign. Nonetheless, Griffiths could still well play a massive part in Scotland reaching our first finals in over 20 years, and our first EURO's since 1996.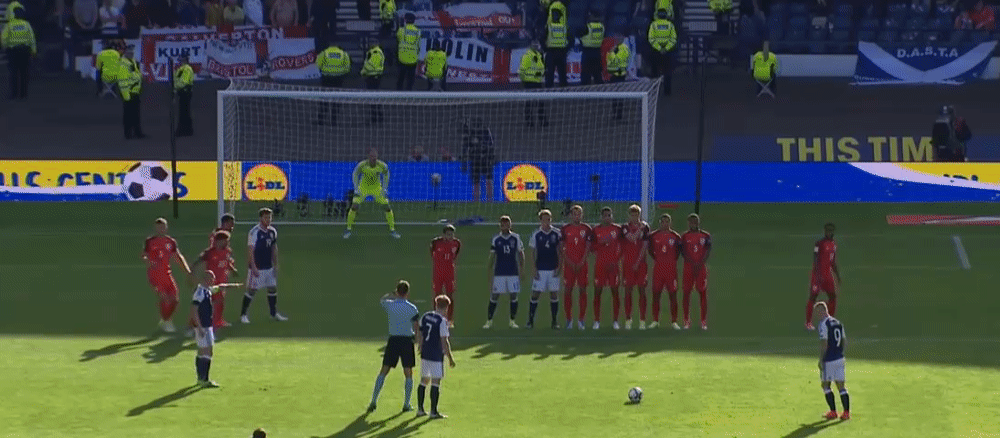 During the last two seasons Griffiths' has also been absent for Celtic for the same reasons. In late 2018 he made the decision, after consulting with then Celtic manager Brendan Rodgers, to take some time away from football to help him deal with some personal issues he had been struggling with. He returned this season but struggled to get a run of game time and spent another spell on the side lines due to a hamstring injury.
It took Griff' a while to build up the minutes on the pitch after fully recovering, mostly coming off the bench with his first league start after his injury return finally coming on matchday 22 where he scored his first goal since August as well as assisting to sink Killie. His form since then has been pleasant viewing for Scotland fans, scoring 7 in 9 starts including a hat trick against St Mirren in the last league game before lockdown.
The lockdown brought an abrupt end to the season and saw Celtic declared champions, something which would surely have disappointed Griffiths with regards to his personal development, as he seemed to be making large strides in returning to the high standards which fans associate with the sharp shooting striker.
Regardless, one could argue he is certainly back to a standard which would see him welcomed back to the Scotland fold. Scotland have limited options up front. McBurnie, Burke, Naismith and Paterson are probably the most likely candidates who could do the job up top, putting Griffiths aside of course.
Out of all these names, ultimately it has to be said Griffiths brings most to the table when in the lone striker role, with his pace, determination, his set pieces and a very cultured strikers finish especially when he opens up his body onto that wicked left foot.
After a lengthy preseason before football finally resumes in Scotland, Griffiths should finally be free from the shackles of issues which have plagued him off the field and injuries which have seen him on the treatment table. Because of this 2020/21 can be a massive season for Griffiths, back at his best for Celtic in Scotland and in Europe.
What's more, he can potentially make this the best season of his career with two huge opportunities on the horizon. Domestically, he has the chance to be part of the Celtic team which can seal 10 in a row and write his name into the history books forever. If he can return to his best, he will hopefully find himself leading the line for Scotland. One will hope if Griffiths continues to improve and hit the ground running next season, he can be the man to fire us to a playoff victory as well as to our first finals since 1998.
Liam Cooper
Having finally turned out for Scotland against Russia and Belgium last year, his debut was long overdue. Cooper is a no-nonsense centre-half and is captain for current English Championship leaders Leeds United. Highly esteemed manager Marcelo Bielsa obviously has great trust in Cooper and this season will hopefully bring an end to the pain and false hope Leeds fans have been suffering since they were relegated from the Premier League.
Ruling out some sort of implosion in the Leeds camp, they will likely find themselves promoted at least, if not winning the league as outright champions. As of right now, only seven league fixtures stand between them and the self-proclaimed 'best league in the world'. Since the re-start, Cooper has started both games.
Scotland has struggled in recent years from a lack of centre-halves, especially those with plenty of experience while at the same time also not being 'past it'. Cooper falls into this category, and it's surprising it has taken this long to make his debut for Scotland having played 190+ games for Leeds since he made his move to Yorkshire in the summer of 2014. Cooper was first given the captain's armband in 2015 and clearly takes his leadership position at the club seriously.
Next season of course could be a very exciting one for Cooper, moving up a level and finally reaching the top of English league football, as well as the test posed by trying to stay there. Scotland has rarely had the luxury of a Premier League centre back to pick from, with Grant Hanley and Russell Martin the most recent to have played at that level. Cooper's potential new status as a Premier League captain as well as the wealth of new experience he will gain from playing that that level will be pleasing for Steve Clarke, as it adds to the growing contingent of Scottish players getting regular game time in the English Premier League.
This is why Cooper should certainly be one to watch for Scotland fans next season, as it could certainly be the biggest in his career and interesting to see how he copes with the demands of the Premier League.
Robby McCrorie
Having spent much of his time in previous seasons out on loan, next season could potentially see McCrorie make the next big step in his career. Having moved up the leagues through a series of loans at Berwick Rangers, Morton and Queen of the South, McCrorie played the remainder of last season playing at his highest level yet. After being recalled from Dumfries early by his parent club Rangers, the young goalkeeper impressed at Livingston in the second half of the season helping them to a 5th place finish after the early conclusion of the season.
Allan McGregor has been the number one choice for Rangers between the sticks since his return to the club in the summer of 2018 and has one year on his contract remaining after an agreement was reached to extend his stay by a year to keep him at Ibrox until end of the 2020/21 season.
Rangers have made a few changes this summer in their goalkeeping ranks with Wes Foderingham and Jak Alnwick departing Ibrox. While that could have pointed towards McCrorie becoming McGregor's deputy, the recent signing of Scotland international Jon McLaughlin from Sunderland adds more competition for the gloves.
With McGregor now 38 and with only 12 months left on his contract, it could well be time for Gerrard to start thinking about the long term future of the goalkeeper position and invest in a player who has been with the club since 2013. After displaying solid performances elsewhere McCrorie would be deserving of a place on the Rangers bench, and one would think next season would provide a good opportunity to blood him into the Rangers first team and give him a chance at the number one spot. This would then help build towards Rangers having a solid replacement with experience they could trust after McGregor's time in Govan comes to an end.
Such a development should be of interest to Scotland fans also. Robby and his twin Ross are both experienced players in the Scotland youth setup, with both featuring at every age group from u15's up to u21's. Ross has captained Scotland u21's on numerous occasions and also has 55 appearances for Rangers, so Robby will be hoping he can follow into his twins footsteps. What is especially funny (maybe not so funny is you were Robby) is that Ross has in fact beaten him to playing in goals for the Gers. This occurred after McGregor was shown a late red card in a match in May 2019 against Hibs and Ross stepped up and played the remaining minutes in goals for the 10-man Rangers, something you can be sure is brought up at every family meal since.
Nevertheless, Robby's time will come and hopefully it is sooner rather than later. With regards to the Scotland national team the options we have between the sticks are not as strong as they have been in recent years. Before, the Tartan Army were spoiled for choice with the likes of David Marshall, Craig Gordon and Allan McGregor. However, with McGregor retiring from international football and Gordon likely looking for a new club next season, Marshall is probably the best option Clarke has to choose from. Marshall isn't getting any younger either, so with this in mind attention turns to see who is potentially coming through.
Should McCrorie manage to win a spot in the Rangers first team, this would be massive for his development and he would be one step closer to establishing himself as the number one keeper at a big club. This is why Scotland fans should note his progress over the next 12 months, as he could soon hopefully be one of our top choices to pick from to represent the nation in goals.
Is there anyone we've missed? Which Scotland players will you be tracking closely in the 20/21 season? Let us know on Twitter or in the comments below!
Thanks for reading, we really appreciate you taking the time. If you've enjoyed the article or any of the others on the site it would be fantastic if you would consider sharing it with your Twitter followers, Facebook friends or family WhatsApp group! We're looking to grow an audience of like-minded Scottish football fans, thanks for your help!