Gordon Sheach
RetroScarf: Scotland 2-2 England (2017)
With the football world currently in a deep-freeze due to the Covid-19 pandemic, the Scottish FA have kindly been re-posting full length matches from the Scotland National Team and Scottish Cup archives to their YouTube channel. It is a real pleasure revisiting these games. It's amazing the things you fail to remember from a match you attended. Maybe the person in front of you blocked your view, maybe the pre-match refreshments blurred your vision.
This past weekend, the Scottish FA took us back to 10 June 2017 and the sunny Saturday afternoon visit of Gareth Southgate's England side to Hampden Park.
This was a truly fascinating match to re-watch. While understandably all memories of the game focus on the final 240 seconds, there's a lot to pick apart from the game as a whole and I for one found the experience of re-watching it incredibly cathartic. For those of you who would like to watch along, you can find the game in full here.
Where were we?
This match was a Group F Qualifier for the World Cup that would be held the following summer in Russia. Scotland came into the game already drinking in the last chance saloon. While the campaign had kicked off in impressive fashion, a 5-1 hammering of Malta with Robert Snodgrass taking home the match ball for a hat-trick, optimism was quickly dashed in the October international break with a late draw salvaged at home to Lithuania before a tame 3-0 reverse in Slovakia.
The next international break in November would crank up the pressure on Gordon Strachan's position as Scotland head coach even further with another 3-0 loss, this time at Wembley. I attended that game and the atmosphere among the Tartan Army was certainly flat, especially when compared with our last visit for the 3-2 friendly loss in 2013. However, watching the highlights from that game back today, it's incredible that the game ended 3-0 to the home side. England scored with their three shots on target while Grant Hanley, James Forrest and Robert Snodgrass were all guilty of missing great chances with the score at 1-0.
Scotland entered 2017 with little margin for error. Eight points dropped from the first four games meant Scotland would need to win most of their remaining games, including home games against Slovenia, Slovakia, England and Malta.
Scotland's first game of the year came against Slovenia at home. In front of an attendance of just over 20,000, Strachan turned to Scotland's Celtic contingent who were enjoying an incredible season, their first under Brendan Rodgers. Six Celtic players started that night (Gordon, Tierney, Brown, Forrest, Armstrong (debut) and Griffiths). Scotland turned in an excellent performance, driven by the fluidity provided by the Celtic players. The challenge Scotland faced that night was to get past one of the best goalkeepers in world football, Jan Oblak.of Atletico Madrid. It looked like the efforts would be futile until debutant Stuart Armstrong teed up Chris Martin to score the winning goal with one of the last kicks of the game. That Martin had been welcomed to the pitch with boos six minutes earlier is a shameful episode in the history of the Tartan Army.
The late win against Slovenia boosted confidence and Scotland's league position. Coming into the game against England they sat fourth, six points off the visitors but only two points behind Slovakia in the 2nd qualification spot.
Pre-Match Observations
En route to Glasgow, one straw I was clutching to was the length of time since either team had played competitively. When Scotland had played England at Wembley in November, they were playing a team at the peak of their form and fitness. This time, the EPL and Scottish Premiership had ended weeks beforehand, with several players having been on holiday since. If we were to catch England cold, this would be the time.
Strachan sprung something of a surprise with his team selection, starting with three central defenders, wing backs and a compact midfield four to support Leigh Griffiths. This system relied heavily on the athleticism of the wing backs to cover defensively while also providing an out-ball and the pressing of the highest two midfielders (Snodgrass & Armstrong) to ensure Griffiths didn't get too isolated up front.
Here we go…
I've attended over 50 Scotland games so I can say with some certainty the atmosphere at this game was special. Maybe the sun had something to do with it, maybe the 5pm kick off allowing for plenty of pre-match refreshments. By the time the teams came out and the anthems were played the crowd was already pumped up.
Captain Scott Brown was keen to remind the England players that they were not there for an easy ride courtesy of a thumping challenge into Dele Alli in the 3rd minute. A yellow card, and that message, were received.
Scotland started very well. Perhaps a combination of limited match fitness with Strachan's unexpected tactical set-up meant England were slow to settle into the game. Robertson, Anya, Snodgrass and Armstrong all did well to press England's defenders and central midfielders high up the pitch, forcing several corners for the home side.
While England eventually settled into the half, they rarely troubled Craig Gordon's goal, save for one moment of uncertainty when Craig Gordon ventured outside his box to head a clearance straight to the EPL's golden boot winner Harry Kane. His looped shot was heading on target before Scotland's Young Player of the Year Kieran Tierney, celebrating his 20th birthday that day, scampered back to clear off the line.
Half-Time – an even 0-0
As the teams re-entered the pitch for the second half, Strachan had made a change. West Brom midfielder James Morrison had failed to recover from the effects of a hefty challenge in the first half and was replaced by James McArthur.
England started the second half where they ended the first, in the ascendancy. Scotland survived an early scare when Jake Livermore saw a shot clip Andy Robertson and come back off the post.
Scotland again showed their resilience, a trait they would show several times that year under Strachan by reclaiming the initiative. First, Leigh Griffiths chased a lost cause across the run of Kyle Walker and went down. A specious claim for a penalty but it kicked the volume of the Tartan Army up a few notches. Moments later, another chance with Leigh Griffiths at the heart. Cutting inside from the right he found Andy Robertson in an excellent position outside the box. Taking a touch to set himself, Robertson should really have hit the target, instead he saw his show fly over Joe Hart's bar.
Deadlock Broken – A disaster in slow motion
Just after the hour mark, Gareth Southgate shuffled his pack for the first time, replacing the ineffective Marcus Rashford with Arsenal's Alex Oxlade-Chamberlain. This would quickly pay dividends but it's impossible to watch this goal without considering the Scotland errors that invited the danger.
First, Kieran Tierney (who had been having a quietly excellent game outside of his natural position) let a high ball bounce awkwardly. He and Craig Gordon both chased after the ball ending in the goalkeeper clearing for a throw in from an attacking position. Eventually the ball would come to Oxlade-Chamberlain who drifted past an attempted challenge from Scott Brown. With Tierney and Armstrong hesitating momentarily, the Ox was able to send a shot on goal that found the net via Craig Gordon's gloves as if in slow motion. A charitable interpretation is that Gordon was looking straight into the sun as the shot came in. In the first half, Joe Hart had worn a baseball cap to combat the late day sun. Either way, the deadlock was broken and the ferocity that Gareth Southgate celebrated the goal belied the challenge his side had faced to that point.


A Hero Departs, Replaced by Another
With ten minutes to play, Ikechi Anya's race was run as the Derby County winger lay on the Hampden turf. He had put in a frankly Herculean effort to cover the entire right flank single-handedly. He left the pitch gingerly to be replaced by Chris Martin, the scorer of the winning goal the last time Scotland played at Hampden. He would play a pivotal role in the madness to come.
First, as "you're just a shit San Marino" echoed from the away end, a free kick was awarded. Chris Martin tangled with Gary Cahill as a high ball dropped, distracting him enough so the Chelsea defender didn't notice the diminutive form of Ryan Fraser (who had come on for his debut) behind him. Cahill turned and swung a boot at the ball, clattering Ryan Fraser in the chest.
I don't have to remind you what happened next do I?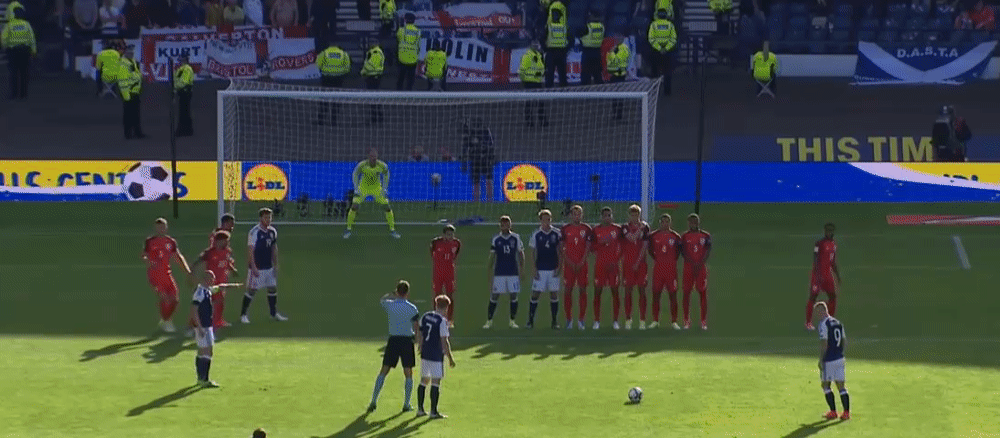 One observation from re-watching this goal again (and again) is how Griffiths knows the ball is in as soon as it leaves his boot. When the ball hits the net, Griffiths is almost out of shot and heading for the corner flag!
Scenes. Unbelievable, incredible scenes.
What is that thing they say about lightning? It doesn't strike twice? Well, no-one told Leigh Griffiths. Again, Chris Martin is again at the heart of the action, winning a free kick from the slipping Jake Livermore. Unfortunate, but a clear foul. For his second trick, Griffiths goes left past the despairing Joe Hart, then heads around the goal to throw air punches at the away end as all around him lose their heads.
What is truly iconic in this moment is the way Christophe Berra and James McArthur, who had followed the shot in, catch each other in a mid-air hug. A moment of total, wholesome joy among the carnage!
The Scottish FA would later put together an excellent montage of fan celebration videos of this goal. My contribution, shared later can be found here:
What goes up…
Having seen the Scotland movie enough times in my life, even at the game I had a strange feeling of knowing how it would end. Watching it back, what's incredible is how only around 90 seconds pass between Griffiths' second goal and Harry Kane breaking our hearts. At the game it felt like an eternity.
Yes, Armstrong should have passed left on the counter. One of Mulgrew of Gordon should have laid a claim on the floated cross. Neither did and the rest, they say, is history.
Tartan Scarf Player of the Match
While Leigh Griffiths clearly had his best game in Dark Blue, he was not alone in having an outstanding game. I mentioned earlier my awe at the energy Ikechi Anya brought to the side that day. Handed his debut by Strachan, Anya was an impressive player for Scotland, offering lightning pace, quick feet and a good finish. His goal in Dortmund remains one of my fondest Scotland memories.
Kieran Tierney, coming off the back of an incredible season with Celtic when he scored twice and provided 12 assists as a teenager. He would be named PFA Scotland Young Player of the Year that season, rightly so.
On reflection
The game ended 2-2 and while it wasn't the epic victory we would all get to toast for years to come, it was a creditable result against a top side in world football who would reach the Semi-Final of the 2018 World Cup.
For Strachan's Scotland they would go on to put in an excellent performance in Lithuania, winning 3-0 before well earned home wins against Malta and Slovakia would set up a win-or-bust game in Slovenia to determine whether Scotland would progress to the Playoffs. A devastating 2-2 draw in Ljubljana saw Scotland put in their first poor performance in a year, ending their hopes.
Gordon Strachan would depart the role of Scotland Head Coach soon after, leaving behind an unbeaten side in 2017 and only 8 competitive defeats from 26 games in 5 years. A record that may be read in a more favourable light with hindsight.
Hampden Roar Podcast
Inspired by re-watching this game, I joined Andy Bargh and Ben Ramage for a throwback episode of the Hampden Roar Podcast. You can listen to our group therapy session here:
I really enjoyed re-living this game and I hope you've enjoyed reading this piece. Until we can meet again at the Playoff v Israel I hope you're all staying safe and healthy.